Relax With Recipes
Madison food critic Jerry Minnich's new book dishes out what's nice -- and easy -- for your cottage table Up North

By John Motoviloff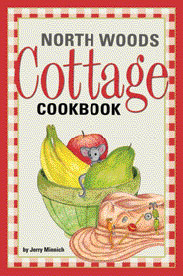 Up at the cottage in Wisconsin -- it's always "up," no matter what the compass says -- you might choose to fish, hike, swim, boat, putter around, or just relax in the hammock. But to keep up with such a rigorous lifestyle you have to eat Up North, too. What do you make for dinner when the shelves are bare and fixings at the village store are limited? Madison author and restaurant critic Jerry Minnich has one hundred eighty answers to this question in his new North Woods Cottage Cookbook, which he foraged from his own and his friends' recipe files.
From Swiss steak and fried smallmouth bass to s'mores, Minnich's book provides the kind of grub you actually make at the cottage, not the airbrushed fare you see in glossy photos of Cabin Life. A bonus here is Minnich's wry humor, which readers will recognize from his food writing for local papers over the past twenty years: "What would you rather be doing at six o'clock in the evening -- whipping up a roux for the seafood-stuffed pasta shells, or watching the loons on the lake with a gin and tonic in hand?"
These are exactly the kind of recipes you can make while cradling a cocktail. Creamy Pork Chops (featuring the Eternal Sacrament of Cabin Life, cream of mushroom soup) are ready in twenty minutes. And then there's Ridiculously Easy Chicken Pot Pie, sealed in Bisquick and ready in a half hour. And for those rainy days when you actually do feel like cooking -- all right, you can't fish or swim, you've finished your trashy novel, and you're bored to tears -- there are plenty of slow-and-low dishes like Hungarian Goulash, Pot Roast with Root Vegetables, and Minnich's Championship Chili. Cucumber Yogurt Soup, Spaghetti Marinara, and Wild Mushroom Fettuccine will feed your vegetarian friends.
The Well-Stocked Cottage Cupboard chapter, wrought from the author's experience at his Vilas County getaway, is a great guide for what to pack for cottage vacations. And what Wisconsin cookbook would be complete without a chapter called "We Killed It, Let's Eat It," which gives recipes for everything from bluegill to venison. Cottage owners and vacationers alike will delight in this funny and useful tome. I've reserved a spot for it in my Crawford County cabin -- right next to the duck decoy.
Minnich's Championship Chili
This is the chili recipe I have been using since 1960. It was the recipe of Senator John Tower (R-Tex.), who won the U.S. Senate chili contest with it, barely beating out Sen. Barry Goldwater (R-Ariz.). Over the years, I have adjusted the recipe to my personal taste and have never had any complaints (except that, sometimes, wimps think it's too spicy). Like my beef stew, you may easily double this recipe to serve more people. I make up the chili ahead and freeze it solid in a large stockpot. When we're packing to go to the cottage, I put wax paper over the frozen chili and fill up the rest of the pot with things I want to keep cool on the trip up north. I put the lid on tight, stow the pot in the car trunk, and by the time I get to the cottage the chili is just beginning to thaw. (OK, if your freezer can't accommodate a large pot, freeze the chili in a smaller container or containers and then dump them into the big pot before leaving for the cottage. Come on, folks, I can't do all the thinking for us, here.)
Bacon fat
2 medium onions, chopped
4 cloves garlic, minced
1 or 2 green peppers
3 jalapeño peppers (fresh or canned)
2 pounds chuck or sirloin, cut in bite-size cubes
Small can tomato sauce
32-oz. can diced tomatoes
Chili powder to taste
Paprika to taste
1 Tablespoon ground cumin
Dash oregano
Salt & pepper to taste
Splash of vinegar
Splash of Worcestershire sauce
32-oz. can kidney beans, drained
Grease a large iron pot or Dutch oven with bacon fat and saute the onions, garlic, and peppers until soft but not browned. Add the meat and brown on all sides. Add the tomato sauce, four cans of water, and the tomatoes. Add the seasonings. Bring to a boil and simmer for about an hour. During the final cooking stage (or reheating at the cottage), add the beans and simmer for only 10 minutes more. Some purists don't add the beans at all, but I do. It makes the chili go further. Serves 6.
Diner Roasted Potatoes
The big problem many people have with roasted potatoes is that the bottoms blacken before the insides get done. This recipe answers that problem.
2 pounds white potatoes, unpeeled
3 Tablespoons olive oil
2 teaspoons minced garlic
2 teaspoons dried oregano or rosemary
1 teaspoon seasoned salt
Black pepper to taste
Clean potatoes and cut them into bite-size chunks. Microwave them, full power, for 3 minutes, or, lacking a microwave at the cottage, boil them for 8 minutes to soften them up. Meanwhile, preheat the oven to 400 degrees. Toss the potato chunks with the oil, garlic, and seasonings. Line a baking pan with aluminum foil and spread out the potato chunks in the pan. Roast them for 35 minutes or until the outsides are golden brown and the innards are soft and steamy. Clean-up is a breeze. Serves 4--6.