Permanent Vacation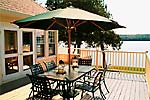 Permanent Vacation by Glenn Garnett is an interesting reflection on taking the plunge and buying a cottage in a rural area. Based on an interview with Karen Richardson of Country Newcomer Services, the article focuses on Karen's experiences of leaving the big city lights behind, and moving to the quieter life of a Bancroft cottage. A good read for anyone considering a permanent move to paradise...


Thirteen Extra Costs to be aware of when buying a home

A Century 21 guide to make sure you don't have any nasty surprises when you buy your cottage or home...


Reading between the lines

A tongue-in-cheek article with serious overtones to help you get to the real facts behind a cottage advertisement...



Bugs, Bites and Deet

An informative guide from Healthy Ontario. Get the lowdown on how to protect you and your family from Ontario's insect population...



A Cottage Life Christmas

Spending the holidays in a rustic cottage setting-what could be more cozy and quaint? Get entertaining and decorating inspiration from the Cottage Life Christmas special and make your cottage Christmas an event to remember...